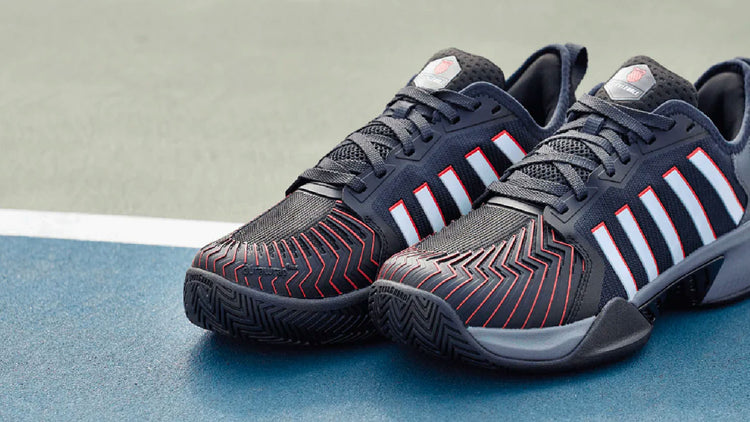 K•Swiss
Brand + Product Elevation
THE ASK
﹋
KᐧSwiss approached SLTWTR for a site design and rebuild on Shopify Plus.
As the primary outward-facing presence of the brand, the website needed to not only perform transactionally, but also represent an evolution of the KᐧSwiss branding.
WE STEPPED IN
﹋
Our strategy was anchored in a product-centric design approach. By leveraging existing assets, we crafted aesthetic mechanisms that amplified the intrinsic value of KᐧSwiss products and the brand as a whole. A minimalist user interface ensured content clarity, while a bold typescale made their brand statements resonate more powerfully.
WE STEPPED IT UP
﹋
On top of an aesthetic iteration to the KᐧSwiss website, we added innovative features for enhanced Consumer Experience.
Our perspective on Consumer Experience goes beyond design aesthetic. We embrace a deeply empathetic approach, stepping into the consumer's shoes to pinpoint pain points and craft solutions that elevate at every touchpoint. Our pursuit of a delightful Consumer Experience found its essence in the KᐧSwiss website  in performance enhancements
THE RESULT
Stepped-Up Aesthetic + Performance
Smart Product Recommendations Engine
Powered by advanced algorithms, this engine personalizes the shopping experience, suggesting products based on individual browsing patterns and purchase histories, leading to higher conversion rates.
Inline Quickshop on Collection Pages
This feature expedited the shopping process. Users could view product details, select sizes, and add to cart without navigating away from the collection page, offering a smoother browsing journey.
Inclusive/Exclusive Filtering against Shopify Data
To enhance product search and discovery, we incorporated a sophisticated filter system. Users could include or exclude specific criteria based on Shopify data, making product search more intuitive and tailored.
Smart In-cart Offers
To maximize sales and enhance customer value, we integrated dynamic offers within the cart. Depending on cart content, users were presented with complementary products or exclusive deals, increasing average order value.
Faster Page Loads
Through careful optimization, we significantly reduced page load times. This led to higher user retention and a marked increase in conversion rates.
Self-Reliance Over Third-Parties
One of our most impactful optimizations was slashing the dependence on third-party applications and scripts. Instead, we developed on-site features that not only replaced these external dependencies but did so in a way that was aesthetically cohesive and more performant.
EMPOWERED FOR THE WIN
﹋
The information architecture of the site and the tools developed by SLTWTR empowered the KᐧSwiss team to take the site and run with it. Custom architecture for merchandising and content authoring allow for rapid content shifts and product promotion.
The KᐧSwiss website now stands shoulder to shoulder with other giants in the athletic footwear industry, and provides consumers with a frictionless flow from discovery to checkout. The numbers speak for themselves in conversion rate, with overall rise well over industry standards and hitting regular spikes of 8%-10% conversion rate.